A major "rite of passage" for every new book that is published is your Kindle countdown free promotion period. This is your chance to really shine and hit the top of Amazon's best-seller charts.
And let's face it: every author wants to be a "best-seller." It's validation that the book you worked so hard, and spent so many long lonely nights writing and editing has been well received. You release your baby out in the world, and the best-seller status is the clearest sign that people love it.
Almost nothing feels better.
Plus, you also earn the right to add "best-selling author" before your name.
It's an awesome feeling.
So let's talk about how to dominate the Amazon best-seller charts as a self-published author.

Self publishing your book on Amazon? You might also like this article: "12 Lessons for Self-Publishing: an Evergreen Guide to Earn a Living as an Author" 

When I published my first book at the end of January, I used these resources below to dominate the best-seller rankings.
During my first Kindle countdown promotion, I topped 6,000 downloads of the book.
Here were some of the results:
"Buy Your Own Island" #1 for Job Hunting…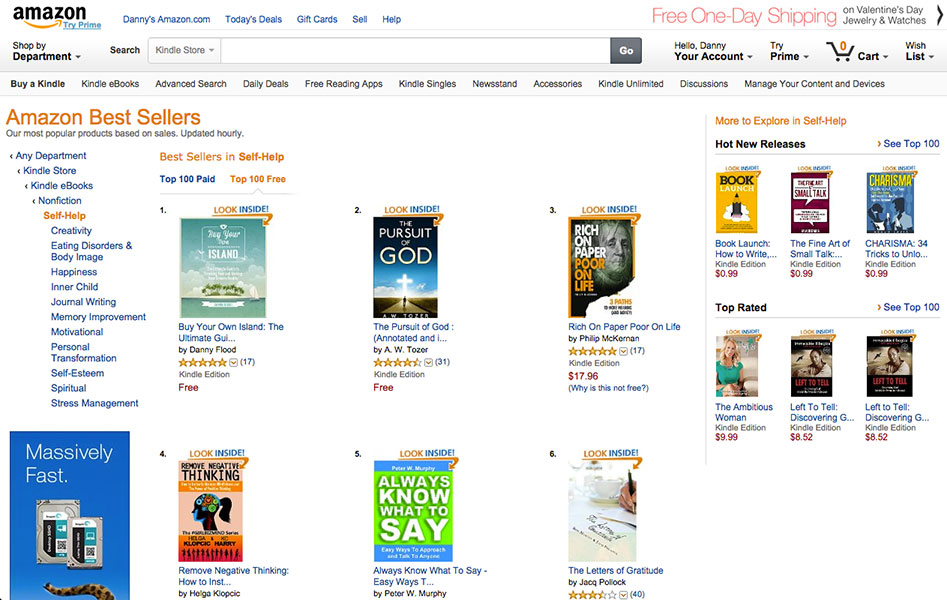 #1 for Self Help too…
#1 for the "parent category" of Job Hunting and Careers (which includes all 8 of the sub-categories)…
And even #3 for the parent category of Business and Money.
Then I launched my second book – "Hack Your Mind to Become Bulletproof" and was able to duplicate the success, rising to the top of the Amazon charts during my Kindle Countdown promotion yet again.
This book reached the #2 spot, and remained in the top #5 throughout the whole promo period.
The funny thing is, this book was about 300 pages less than my first book and had only 2 reviews when I started the promotion. The book is only 24 pages and took only two weeks total – one week to write, and another week to edit, design a cover, and prepare for publishing.
But I still managed to reach the top of the charts yet again.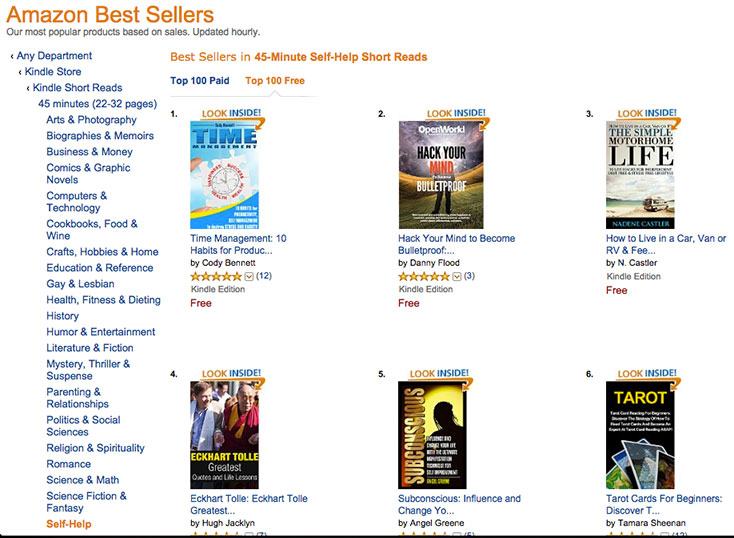 So, how did I do it? That's what I plan to show you in this post. I'm going to pull back the curtain and give you the insights into my launch strategy – what worked particularly well and what didn't, and what the Amazon game really looks like.
The Amazon Publishing Playing Field
First, it's important to understand how the Amazon playing field works. Amazon wants authors to become best-sellers, because it will encourage more and more authors to publish their books on the platform (and promote them).
When authors succeed, Amazon succeeds too.
That means they want to make it easy for books to hit the best-seller status. One clever way that they've done this is by creating a bunch of categories and sub-categories for books so that it makes it easier for books to rank within their particular category.
There's even a… wait for it… "Historical Australian & Oceanian Fiction" with a grand total of six books in the free category.
That's yet another sneaky trick that Amazon uses – each category and sub-category has TWO best-seller lists, paid and free, giving everyone an even greater chance to rank high on the charts.
Also, Amazon updates their best-seller rankings VERY often. The official line is that they update the best-seller rankings every hour, but from what I've seen the rankings actually shuffle gradually.
In other words, if you get 2,000 downloads of your book in one hour, but only two the next hour, you won't go from #1 to #1,000 immediately. You will still stay at the top of the rankings for a while. The ranking algorithm seems to aggregate over the course of the hour, day, and week.
That also means the rankings are constantly shuffling, giving lots books that are earning a lot of downloads at the moment a chance to rank. All you have to do is drive a lot of downloads within a short time frame, and there's a strong chance you'll reach best-seller status.
Now that we understand how the game works, let's talk a little about the steps to take so that we can promote our books to gain lots of downloads.
Beta Readers = Early Adopters
About a month (or for shorter books – even a week or two) before you plan to publish your book, send out free copies to your friends and family. Publish an update on your social media profiles announcing that you have completed a new book, share the title and cover, and extend the offer for a free copy – in exchange for feedback. Send out e-mails to friends and acquaintances too.
The people who reply and read the early version of your book often become your "true fans" and your book's biggest advocates. They can provide valuable proof reading tips, or feedback on eleventh-hour updates to make the work stronger.
Finally, once the book is published you can ask them to write a review on Amazon in exchange for the free book. These early reviews provide strong social proof and encourage more people (who have no previous affiliation to you or your book) to download your book once your promotion begins.
Free Ebook Facebook Groups
There are a number of free ebook groups on Facebook that are free to anyone to join. You simply request to join the group, and an admin will approve your request. Once you're a member, you can copy and paste and message with a link to your book page on Amazon.
Free Ebook Subreddits
Also, make sure to post a link to your book on Reddit. Reddit is the 900-lb gorilla of free traffic, and it can get hundreds of downloads for your book during your launch from Reddit.
Here are links to subreddits where you can post a link to your book:
www.reddit.com/r/FREE/
www.reddit.com/r/KindleFreebies/
www.reddit.com/r/freeEBOOKS
www.reddit.com/r/selfpublish/ (not allowed to create link posts, but you can create a text post with the tag [PROMO] and link your book in the text)
When you submit a link (or text) post to Reddit, you should carefully consider the title of your post. The more compelling and engaging the title, the more upvotes you will get, and the more traffic you will drive to your book page.
Reddit allows you to insert 300 characters for your title, make sure that you use ALL of them. Also, think about what "angle" you want to portray your book as. Try to include the human element in the headline of your Reddit post – you can even include yourself as part of the subject, as I have done in the examples below.
Here is an example of a Reddit post I made during my recent book launch which was very successful:
Notice that the other posts simply list some boring information about the book – the authors didn't include THEMSELVES into the title of their post, so it makes it less engaging. Also – notice how LONG my headline is – which has another benefit… it takes up more space in the postings, thereby making my title more noticeable.
Here's another example of a great Reddit title – it's not long, nor is it related to books, but doesn't it evoke your curiosity and make you want to click?

Not coincidentally, the post also drew a ton of comments (90) and upvotes (84).
Free e-book newsletters and blogs
There are a bunch of websites out there whose sole purpose for existing is to promote free e-books.
Submitting your book to all of these different sites can be time-consuming, and each seems to have it's own submission process and guidelines (some require you to e-mail them directly, some use contact forms, and still others allow you to submit your book information directly through their website). These websites are generally not too well-designed either, and it can be a headache navigating through them all.
Still, it's worth it to at least submit your book to as many as you feel inclined – you can get hundreds of extra downloads of your book during its free promotion.
At the bottom of this page, you can find a bunch of links to free e-book sites where you can list your book.
If you have the free time, there are a lot of other e-book newsletters and blogs to submit your site too, here's a list of 28 of them (click on any link):
Free Forums
There are a number of forums around where you can submit a new post for your book during your Kindle countdown promotion:
Slickdeals Forums – Free Digital Goods
Fat Wallet Forums – Free Stuff
Totally Free Stuff – Books
Kboards – Links to Free Books

There are also a number of niche forums where you could consider posting your book promotion to. Search around on google by typing in the name of your niche followed by the search term "forum."
If your book is related to business or marketing, for example, you could try and post your giveaway to the following forums:
Warrior Forum
WickedFire
Black Hat World
These forums are all in the "make money" niche, and the audience is interested in business and marketing books that will help to – you guessed it – make more money!
Whatever forum you post in, make sure that you check out the rules for posting first. For example, some forums will ban your account if you post a link to your own work. Just be sure to check over the posting guidelines before you submit your post and you should be fine.
What doesn't work?
Posting your free book promotion to Craigslist. It might seem like a no-brainer to post a link to your book page in the "Free" categories in various Craigslist forums for different cities around the world, but it's a waste of time as it's against Craigslist's ToC and your posts will be flagged for deletion.

D'oh.
Another thing that has never worked well for me when promoting any of my online products or initiatives is friends or family. The harsh reality is that your friends (unless they are fellow entrepreneurs who can appreciate the hustle), family, or relatives won't bat an eyelid because of your new launch, or help to promote it at all.
It might be different in your case, but I've founded it to be true. It also aligns with what Keith Ferrazi describes in the book "Never Eat Alone" – the power of networks lies in acquaintances and distant acquaintances.
Once Your Promo Has Ended – The Transition to Paid
I recommend setting your list price at $9.99 (USD) while your promotion is going on, but on the last day of your promotion, set it to $0.99. That's because books enrolled in a Kindle Countdown promotion stay at the top of the free charts even after their promotion has ended. A lot of people searching for free books will see yours, and if it's only $0.99, they can be convinced to buy a paid copy. 
Often, this burst of paid purchases is enough to get you ranking in the paid category as well.
Alternatively, you could also try running a promotion with Buck Books. I did a 99 cent promotion with them and managed to edge out James Altucher in the Paid listings for my category:
My book was #1 for a day before James retook the top position, and fell to #2. But between you and me, I think James cheats somehow 🙂
Did you find this guide helpful? Please let me know your comments or any feedback. Now get out there, and dominate Amazon!