How to earn money everywhere you travel (and dominate your industry at the same time)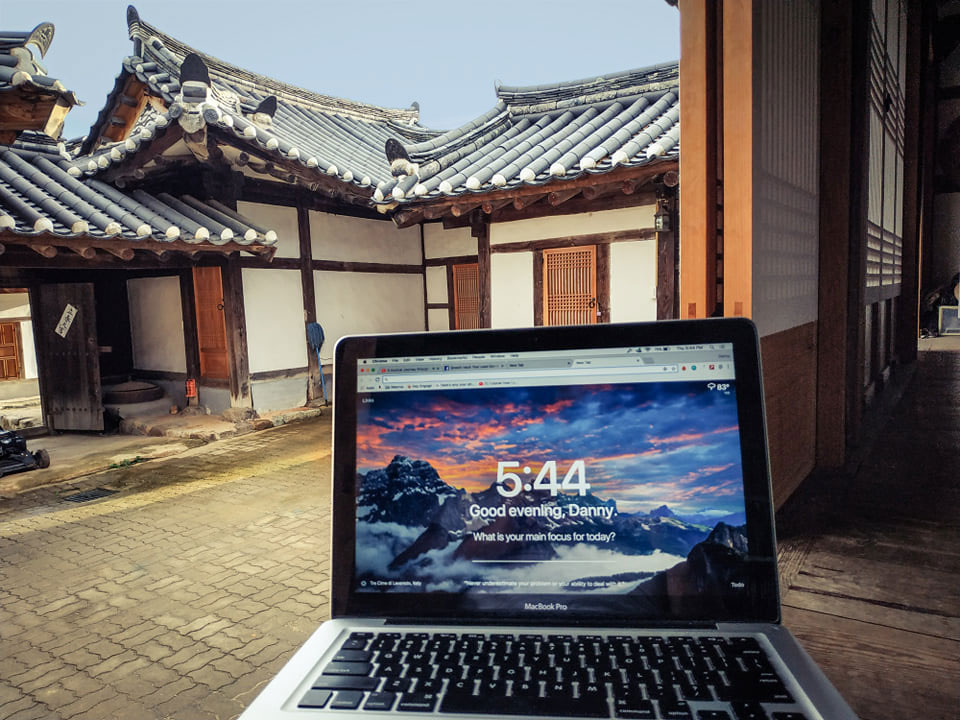 My "office" in the hanok village of Sachon-ru, South Korea.
I'm back in Thailand after a two month trip around South Korea, with a two week stop in Hong Kong where I hosted my very first growth hacking masterclass.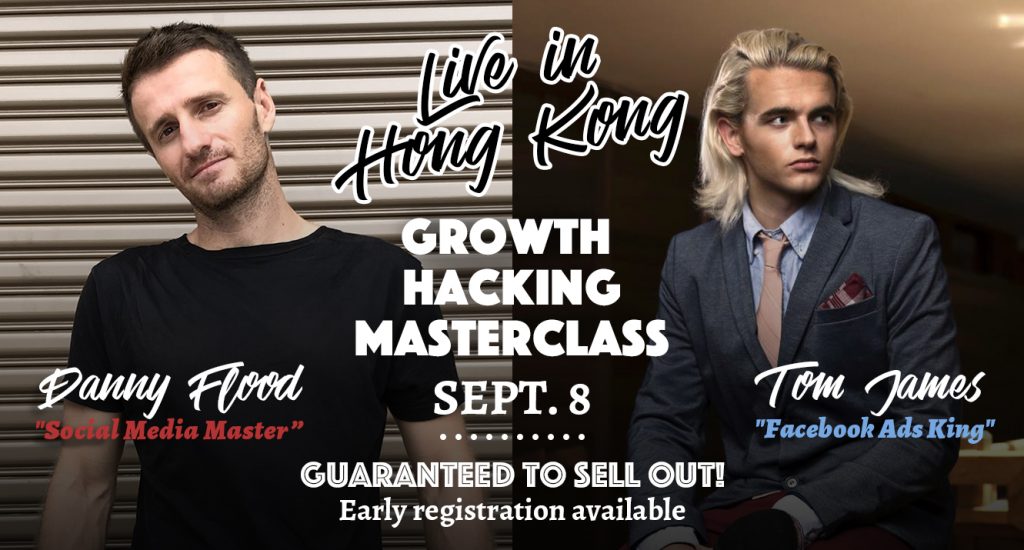 The masterclass, which lasted several hours on a weekend, was a huge success. We took startup owners, many of whom were novices at marketing, and turned them into consummate growth hacking ninjas. We charged 1,600 HKD (roughly 200 USD) per ticket, and sold out the seats.
This weekend, I'll fly to Chiang Mai and enjoy some rest and relaxation (and 200 baht massages!) before prepping for new adventures around the Asian continent (Myanmar, Bangladesh, and Nepal).
Looking back on 2018 so far, this has been the best year ever for me professionally. It's probably been the first year of my life where I didn't have to struggle. Everything seemed to just work — and relatively easily, in fact.
Many years of trying and failing at both entrepreneurship and marketing came at a high cost in time and effort, but they have paid off in that today they have given a tremendous advantage and made my work fun and easy.
I doubled the size of my business in 2017 by doubling my rate of failure. I set a goal to fail 200 times per day. Then I doubled my business again in 2018 and feel like I didn't even fail at all. If this current growth rate continues, I'll be prepared to sell my growth hacking agency within a year or two.
This should be good news to others out there who are trying to "make it" at self employment. It's not much whether each project or product you release is successful — it's just simply that you do. You gain something from every effort you take, whether it's a huge success, a small one, or whether you don't sell a single copy of your product. Just make sure your attempts are made cheaply 😉
I feel so excited about where my life is at and looking forward to the future. Finally I've reached a point, personally and professionally, where I can live completely on my own terms without compromise. I'm at a great place in life, and everything for me is the best it has ever been.
I've been a nomad pretty much fulltime since 2009. As a young adult I dreamt about racy adventures in exotic lands and I lived out them all. It's been a long and wild journey across four continents with plenty of highs as well as bumps in the road and many mountains to climb.
Hiking solo at Namsan in Gyeongju.
People often ask me for advice about how to live this kind of lifestyle. How to leave home, how to "make it," how long it took to earn an income so that I could support my lifestyle.
The problem is, it really doesn't matter what advice you give them. What people need is not more advice and information thrown at them, what they need is to do.
Speed of implementation is one of the biggest factors that separates the high-performing achievers from the also-rans.
If you pick up a piece of advice that's good, act on it immediately.
You need to take action, make attempts, deal firsthand with the inevitable challenges and problems that arise, and strengthen your ability to respond and overcome.
You need to double your rate of failure. Take your idea and execute it. Mindstorm if you need to — write down everything you can think of on a piece of paper that will help you reach that goal.
No more learning or asking advice, just doing.
You don't need to change or shake up everything in your life, just take steps 15–20% outside of your comfort zone. Then keep expanding your sphere of comfort, one step at a time.
I followed this ethos and it paid off handsomely.
Presentations that Pay: How to get paid to travel the world
When I began my life as a nomad, I had little idea what I was doing. I wasted a lot of money and made many mistakes.
One of the frustrations I experienced early on was that I didn't have any large, well-funded company to compensate my travel expenses. As far as airfare, hotels, and transportation — it was all an expense that I paid for out of pocket.
During a flight to Salt Lake City, I made a friend who was a corporate worker. I saw how he had a nice room in a hotel, free buffet breakfast, free taxi from the airport… all compensated by his company.
And since then, I figured I should be able to have the same.
What if I could earn money everywhere I travelled — so that my traveling paid for itself, and then some? What if I could use traveling to build the core of my own empire?
I'm pleased to say that in the past year, I've developed a strategy which makes traveling pay for you. I changed just *one thing* about the way I travel and it has since doubled my business.
So what's the secret? Public speaking.
Consider this:
• Public speaking is the best way to go from a complete unknown to an established brand and respected thought leader overnight.
• It's also one of the best ways to generate B2B leads. In the last four months of 2017, from September to the end of December, my client base has doubled. A key part of that were the dozen or so live workshops and talks I hosted across Asia.
• I strongly feel that public speaking is the best way to establish real connections with a large group of targeted prospects, establish a tribe of loyal fans, and begin a sales conversation with multiple people at once.
• Public speaking is one of, if not the least, competitive form of marketing. Everyone else is competing for a small chunk of real estate using online methods — and all of their competition is doing the same. But when you speak, your competitors are not even in the same room. Let everyone else hide behind a screen, while you get your name and face out there.
If you love to travel, then it's even better. In the past year, I've done nearly twenty live workshops and talks across Asia. Public speaking, in my mind, is the best way to…
Earn money everywhere you travel and meet a bunch of cool, likeminded people at the same time! ✈️
Everyone wins.
How to begin securing gigs
The first attempt I made to pitch myself as a speaker, I failed.
I followed a guru's advice to the letter. I visited Meetup.com and tried to pitch the moderators of meetup groups on the website. Very few people returned my messages — and I was able to schedule zero workshops.
Not a single one.
Far too often, especially as far as marketing is concerned, we make an attempt, meet with failure, and deem the entire venture a failure.
In most cases, the strategy is actually sound — we just need to change one thing. Perhaps we need to change who we're targeting. Perhaps we need to change our message to one people actually care about.
For creating a powerful message that motivates people I recommend the "Four AM test" which I discuss in detail in "Dr Growth."
In my case, I decided to focus on a different target. Meetup groups are just hobby and interest groups and have virtually no incentive to schedule workshops, other than for fun.
So I switched up my targeting and focused on coworking spaces instead. Coworking spaces always need speakers and events to keep people coming back in through their doors. They have a direct interest in providing as much value for their members as possible, so that members feel they are getting their full money's worth.
Here's how you can make this happen.
Simply Google "coworking spaces" in a given city or use coworker.com to find a handful of coworking spaces to reach out to, and offer to give a presentation on your topic of expertise. You can also contact many coworking spaces directly through their Facebook pages.
To create your slides, check out GraphicRiver.net and purchase a nice template, and then fill your slides full of good and useful information. Don't worry about giving away your secrets. Give as much value as you can and many people will be too overwhelmed or too lazy to execute all the killer information you provide that they will simply ask if they can hire you to do it all for them.
Of course, in your closing slides, include all of your contact information and the next steps so that they can join your group, community, follow you, and so on. Then provide them with next steps and a call to action to help them further their progress after they get home (if this call to action directs them to a landing page or webinar that you have created, all the better).
Make prospecting a habit, and you will never hurt for money
"You can attend networking events and seminars, or you can speak at them. You can read books, or you can write them."
After presenting on growth hacking to startups in Sai Ying Pun, Hong Kong.
You should try to mix in a workshop or two any time you visit a new city.
They bring interested prospects to you, and they are happy to run helpful events for their community and bring more people in the door.
I traveled all around Asia this year: Taipei, Hong Kong, Singapore, Saigon, Bangkok, Kuala Lumpur, Jakarta, Penang, and Chiang Mai… and gave one or two talks in each city I visited.
Not only did these workshops pay for the trips, but people also lined up afterwards pleading that they could work with me immediately.
These events also reinforced and boosted the confidence my current clients had in me, dramatically reducing turnover.
You can upload your slides to SlideShare, and use it as part of your sales presentation to new prospects. You can see an example of one of my presentations here.
This wasn't the only thing I did that contributed to the increase in business, and there were other strategies which also paid off quite handsomely. But it was a main driver.
If you plan to travel anyway, I highly recommend following this strategy as you go. I have a unique personal philosophy: you can attend networking events and seminars, or you can speak at them. You can read books, or you can write them.
Focus on the activities which deliver the biggest returns. If you do, the future truly is yours for the taking; the opportunities vast and limitless.
Ready to get started? To help you out, I've collected a list of 100+ co-working spaces and their contact info here. You can decide what countries you wish to visit and reach out to these spaces beforehand and offer to host a free workshop for their members.
Focus on the value that you can provide. Everyone has their own unique set of experiences and skills, many that we take for granted. However your experience can be of great use to others.
In my opinion, the topic you choose to focus on should somehow be in sync with your core offering as a business (or freelancer). That way you can generate prospects during your talks who will be interested in hiring you to work with them directly.
With that said, I'd like to share with you a couple of frameworks to help you create presentations that will "WOW" your audience!
The Four-Step Formula to Create Better Speeches
Richard C. Borden is the author of "Public Speaking as the Listeners Like It!" which was a classic gem from the 1930's. For years, he was one of the nation's most popular speakers and sales trainers and lectured on public speaking at New York University.
Borden has developed a four-step formula to help give a great speech. As you are preparing your speech, imagine your audience interjecting and shouting out these four outbursts:
1. "Ho hum!" Your introduction and opening sentence must grab attention and electrify the audience to pass the "ho hum" check.
2. "Why bring that up!?" Expand upon your attention-grabbing opener. Pique their interest further.
3. "For instance?" Share at least one specific, persuasive example, story, or case study to reinforce your point.
4. "So what?" What can we do with this information?
As you prepare your speech, run it through these filters. Remember that the first step is always to capture people's attention.
I would like to recommend a simple litmus-test which I often recommend to clients which can help make your opening message stronger. It's called "The Four AM Test."
If you were to wake up a member of your audience (or your target prospect) up at four in the morning and deliver your opening, would they care? Would it address something of such immediate interest that they would immediately get up and demand to learn more? Or would they beg you to put them back to sleep?
Right from the very beginning, you must always electrify your audience somehow. In the book "Ultimate Sales Machine" the author Chet Holmes teaches us what he calls "The Stadium Pitch" (recommended for capturing an audience's interest).
Chet asks us to imagine that we are selling office equipment in front of a room full of executives. You could title your talk the way most people would, such as:
"The Five Ways Our Office Equipment Can Benefit You"
…Though it's virtually guaranteed that you would lose the interest of at least 90% of your audience, Holmes says. Ho-hum!
How much better would it be to say something like…
"The Five Ways You Are Wasting Money in Your Operations and Administration."
Suddenly, you've grabbed the attention of virtually every single business executive in that room who wants to make sure they are not making any of the mistakes you're about to inform them about.
Once you've hooked your audience, reel them in. Follow the next three steps in the Borden Formula and the rest will fall into place.
In his book, Borden gives us an example of a speech by Bruce Barton, a top Madison Avenue advertising executive and co-founder of the agency BBDO. In this talk Barton was urging a group of young men to make the most of their spare time, as you'll see…
1. Ho Hum! Barton begins his talk with an intriguing observation about the potential value of spare time: "Last month a man in Chicago refused a million dollars for an invention he had evolved in his spare time."
2.Why Bring That Up! "You are interested in this because it confronts you with the possibilities of your spare time. Did you ever stop to think that most of the world's great men have achieved their true life work, not in the course of their needful occupations, but—in their spare time?"
3. For Instance? "A tired-out rail-splitter crouched over his tattered books by candlelight or by fire-glow, at the day's end; preparing for his future, instead of snoring or skylarking like his co-laborers. Abraham Lincoln cut out his path to later immortality—in his spare time."
"An underpaid and overworked telegraph clerk stole hours from sleep or from play, at night, trying to crystallize into realities certain fantastic dreams in which he had faith. Today the whole world is benefiting by what Edison did—in his spare time.
"A down-at-heel instructor in an obscure college varied the drudgery he hated by spending his evenings and holidays in tinkering with a queer device of his, at which his fellow teachers laughed. But he invented the telephone —in his spare time."
4. So What? "Gentlemen, you, too, have spare time. The man who says: 'I would do such and such a great thing, if only I had time!' would do nothing if he had all the time on the calendar. There is always time—spare time—at the disposal of every human who has the energy to use it. Use it!"
 Speaking at the Smart City Hackathon at the Gokaraju Rangaraju Institute
of Technology, Hyderabad.
Five Storylines to Craft a Story that Rivets Your Audience
To help give your speech some extra zing and truly hook your audience in completely, you should consider using one or more of these storylines in your speech:
1. Great Aspirations: Our heroes want to make the world a better place and know there must be a better way. Working nights and weekends, they create something that people love more than their wildest dreams.
2. David vs Goliath: Goliath has a head start, incredible resources, and a cast of thousands. But David takes him on and defeats him, showing that the underdog can succeed.
3. Profiles in Courage: Injustice, pain, and suffering are making our heroes' lives miserable. Despite these woes, they persevere and accomplish great things.
4. Personal stories. "Epic" is not always necessary. "Illustrative" is enough – talk about your personal experience doing something, or using a product.
5. Immersing people in the experience. Pay attention to detail. When telling a story, immerse people in the experience. When it comes time to pitch, make the setting as realistic as possible.
While these storylines are all very compelling, remember not to make the focus of the speech all about yourself. Connect with the audience by making a point to address them directly.
For example, I might have a slide with a headline that says:
"I believe in you and my purpose is to help you reach your goals."
Then follow through on that promise. You do this by giving your audience members a solution to some problem they have (such as helping insomniacs finally get some sleep) or helping them to get more of what they want (more clients, more traffic, more revenue, more recognition, etc).
By addressing your audience with the word "you," and focusing on their wants and needs, you establish a direct connection with them. Treat your audience members as kindred spirits and they will trust you have their best interests at heart, and they will reward you with their attention.
Asking the audience questions and getting them to participate is another great technique to connect with them. A great business speaker might ask the audience something like: "How many people in this room would like to grow their business 10 times bigger than it is right now?" And then he or she would ask for a show of hands.
Tony Robbins, a master speaker who has riveted audiences for several decades, asks big, deeply personal questions of his audience which are hard to resist. For instance, Tony might ask something like: "Who here has ever felt disappointed by their partner's behavior?" Or sometimes he'll be direct. Tony will make a point, and then say "How many here agree with me on this?"
Through the act of asking simple questions such as these, you are able to get the audience to agree with you. This subconsciously evokes compliance on their part, and they find themselves drawn over to your side (because you place yourself on theirs).
Conclusion
For some reason, public speaking is one of the big things that people fear the most. You may feel uncomfortable at first, but feel the fear and do it any way. Breathe and let this feeling pass through you. You have to become comfortable with being uncomfortable to truly become a black belt at marketing.
Whenever you find yourself in an uncomfortable situation, or anxiety is taking hold, I recommend the practice of journaling. It is often the abstract hobgoblin of fear that harms us the most more than anything specific.
You will find that fear is a cowardly bully: if you chase it, it runs.
When I'm giving a speech, I inherently realize that the audience's focus is not really on me, it's on my content. This helps me detach from my ego and feel comfortable as I present my content (my speech) to the audience. And if your content is good, half the game is already won.
When I'm on stage, I find a place among the crowd to rest my eyes where they feel the most comfortable, and spend about 70% of my time focusing there.
Finally, study great speakers you admire (such as Tony Robbins) by watching their videos on YouTube. Then see yourself on the stage, standing confidently, delivering powerful points, and capturing the audience. Afterwards, you bow gracefully to their applause.
Do this, and it will inspire you to live out your vision. View your fear not as a threat but welcome it as a growing pain that will help you become the person you dream about becoming.
Wish you all the luck in the world! Hope this guide was clear and helpful though drop me a comment if you have any questions about this strategy, I'm here to help 🙂