Ryan Biddulph is the owner of "Blogging from Paradise" and a blogging and social media marketing expert.
Ryan gave up a sheltered, boring life back home in New Jersey to "retire to a life of island hopping," and inspire others to do the same. He's traveled all over Asia, Central America, and South America, and is based in Bali.
He's also an extremely prolific online publisher, self-publishing one book per week and a thought leader in the world of blog marketing.
So without further ado, here's Ryan!
#Enter Ryan
So Ryan, how did Blogging From Paradise come about? What was the story behind this?
For 4 years I worked as a security guard in a shipping terminal, putting in 18 hour days at times and not taking off but 4 days a year. It was maddening, mindless work where I wasn't challenged at all. However, the job allowed a lot of time for introspection and reflection on what I wanted for my life. More than anything, I wanted to be free.
After getting downsized I learned about the online business bit, and since my current wife – then girlfriend – was a traveling nut she introduced to a whole new, exciting way of living. This sparked my interest, and it also moved me in the direction to create my current day life.
Initially, I struggled and flailed along for a few years to get my blog off of the ground. Then once I'd realized success with that blog, I was back at square one once I had to delete it after an issue with my hosting company. This setback led to the creation of my current platform, Blogging from Paradise. The rest is history 😉
You've mentioned your one book a week challenge. How did that get started and what have you learnt from the process? What have the results been like?
I wanted to publish eBooks for my Blogging from Paradise readers because with all the Kindle owners out there it seemed like a super convenient solution for publishing content. So I started publishing eBooks in the form of handy little guides and as I improved as a writer and became more familiar with the publishing process I got the crazy idea of publishing an eBook weekly.  Once I'd set that challenge for myself I've never looked back, and have been publishing eBooks weekly ever since.
The results have been excellent so far. I haven't let a single week go by without publishing an eBook, and in one particular week I actually published 2 of them. I am expanding my brand awareness and more than anything, I am having a blast in the process.
I've come a long way as a writer and find that writing 4,000 to 10,000 words on some days to be not all that hard, so I figure, why not publish a short, sweet, helpful eBook once a week, while I'm writing?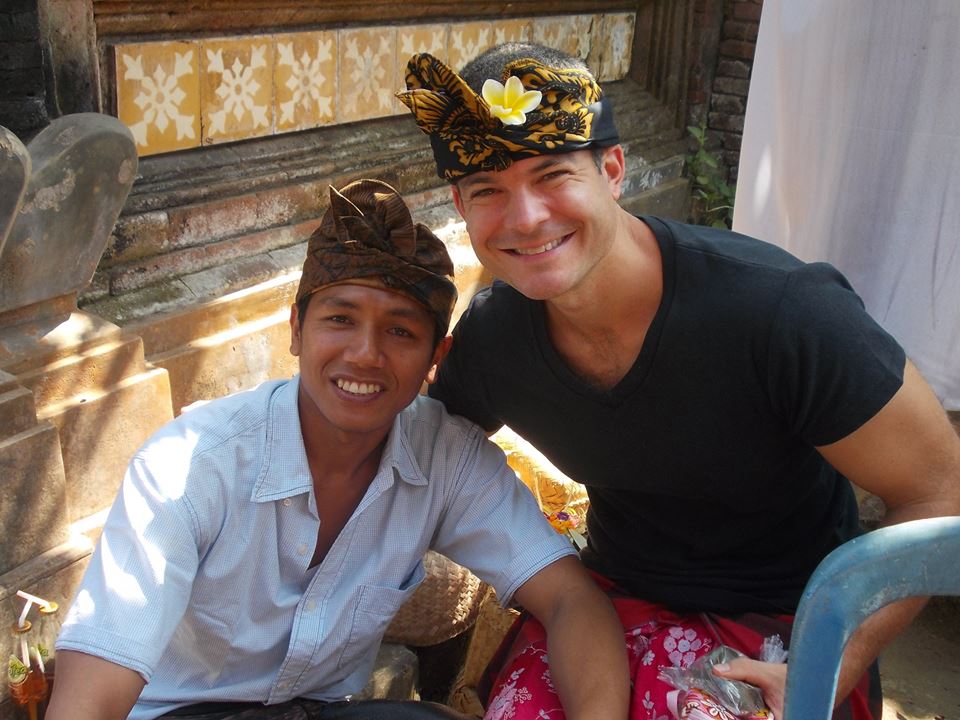 What's the process, broken down, to getting this point of location and financial independence? At what point in a person's journey do they reach the "tipping point" as it were and make this reality?
First you have to go through the "release phase." You release yourself from the old in order to make room for the new.
For me, this meant selling my car and ending the lease on my apartment, and committing to becoming completely location independent. I believe in owning only that which I use, and which benefits me. A car sitting in a garage or an apartment collecting cobwebs are energy anchors, draining on the mind, and sucking up my capital too. I got rid of them to prime that location independent pump.
Then I committed fully to a life of travel. My wife Kelli and I bought one-way tickets to Bali. We took a one-month litmus test as a trial run. If we despised traveling together, we'd simply fly back. But if we dug the experience, we would dig in for the long haul. There was nothing to lose and no reason not to take a chance. Apart from our families, there was nothing pulling us back to New Jersey.
As for financial independence I would say focus on the two C's: Create and Connect. Create blog posts – on a self-hosted, branded WordPress blog – and podcasts, videos and other forms of free content. Really go over the top. Be authentic, by writing how you speak and goodness gracious, practice creating content like mad. This free content primes the trust pump; people come to know, like and trust you, if you keep giving away freebies.
As you create free content start to create eBooks and/or online courses to establish your authority and to develop a passive income stream. Add in freelance services – whatever really vibes with you, like freelance writing or web design – so you have a less passive but added income stream, and in time, you'll become financially independent if you connect with leaders in your niche.
How do you connect with the top folks in your niche, you ask?
By promoting them aggressively, by commenting on their blogs, by emailing them, to thank them for their inspiration, and by helping them in any way possible. You'll pop up on their radar, and some folks may even promote ya 😉
Others will become great friends, and other leaders in your niche, well, folks will see you commenting on their blog all the time, and will associate you with them, and they will grow to trust you, and yep, they'll buy your products and hire you.
One thing I like about your philosophy is you're big on leveraging your time. You've mentioned Triberr. What are some of the best ways  you've found to leverage your work to gain greater freedom?
Danny, I want to take some notes from you on that one 😉 You are everywhere, and it's evident you are leveraging your time like a boss.
As for me, I engage in what I call "impact acts." If I am going to spend my time on something the intent is to make an impact. I am huge on blog commenting, so to make the effort worthwhile I will always address the blogger by name, and usually I'll publish maybe 2 paragraphs in my comment, to stand out from the crowd.
If I engage in one act per time, I will try to reach as many people as possible with that single act. This mindset and philosophy helps me to leverage my work to boost my freedom factor.
On Triberr (triberr.com) I share a ton of blog posts each week; sometimes more than 300 posts. Triberr integrates with Twitter and makes it simple and easy to share posts quickly, by simply hovering over a button. I find that sharing a ton of content in a short period of time helps me make friends on Triberr and Twitter, thereby greatly increasing the number of social shares I receive. I am a big believer in generating good karma to grow my freedom exponentially.
Why do so many bloggers fail to earn money?
They try to earn money so darn badly instead of setting an intent to be free. If you chase money, money flees. It you love your work so much and are devoted to freeing yourself and to freeing your audience, you'll become a creative, prolific dynamo. When you love what you do you'll make money more easily and connect with leaders and you'll achieve freedom through all different types of channels.
It all happens when you don't chase money, and become detached from any outcome. You focus on giving, not getting, and where your energy goes, grows…..meaning, that as your giving reaches a critical mass a tipping point occurs and money begins to flow in with less effort. You'll also be enjoying the process too.
Tell me about some of the perks of your lifestyle.
I never set an alarm; OK, I do wake up early, but on my own. I have been on a 4 year long working vacation, which is kinda neat. I lived on one of the most beautiful islands on earth in Fiji, when I did a 4 month house sit in Savusavu in 2014. I feel blessed to spend an extended period of time living in some pretty neat locations instead of needing to rush through them in days or weeks.
More than anything, freedom is the biggest perk. I set my schedule. I take off when I want to take off and there is no ceiling to my income. I am freeing other people each day which inspires the heck out of me too.
What advice would you give someone enable this lifestyle?
Know why and tie that reason to being free. Thirsting freedom more than you fear doing uncomfortable stuff is the great tipping point in achieving this lifestyle. You'll need to let go a bunch to make room for this life and this "letting go" is hellishly uncomfortable at times but in the end, boy is it worth it!
How have you changed as a result of your experiences? Where would be if you had stuck your former career?
I used to be a broke, depressed, unhappy security guard who rarely left his home state. I was sheltered, lacked confidence and felt life was a struggle.
Now I am a full time professional blogger who spends months at a time in paradises like Savusavu, Fiji, Bali, Koh Lanta, Thailand and Manual Antonio, Costa Rica. My eBooks have been endorsed by mega business mind Chris Brogan as well as Oprah Winfrey TV Network Ambassador Nikki Woods. It's been a quantum leap in many ways, and in other ways, a slow, steady growth period. If I was in corporate…I shudder to think LOL!
What are some of your favorite travel "hacks?"
Do your homework beforehand. Know what you want before you go. For example, Kelli and I adore low season in Thailand. We learned quickly that the tourist population in Phuket plummets, we have Nai Harn Beach almost entirely to ourselves, and early on in the day it doesn't rain much at all. So go against the grain if you want a more peaceful experience and also, get clear on what you want in a spot.
Live in a local neighborhood. We're living off the grid a bit in Jimbaran, Bali. Nowhere near the bay – which is nice, mind you – we are up in the hills, in farm country. None of the neighbors speaks any English which is totally neat because it forces me to learn Bahasa Indonesian a bit more each day.
I also receive local prices; 5000 Ruppiah for a huge water cooler jug, which is roughly 38 cents, which is freaking bananas. Live in local neighborhoods and you'll have a full 180 from tourist traps. This also pushes you well outside of your comfort zone and goodness gracious will this benefit you as an entrepreneur. Just last month I helped someone tackle a spitting cobra in a chicken house on the grounds; that ain't happening in Denpesar, let me tell you 🙂
What's next for you? Where do you see yourself in the next few years?
I do my best to live in the moment but overall, I just see myself publishing a ton of eBooks, growing my Blogging from Paradise blog and brand and helping as many human beings as possible retire to a life of island hopping through smart blogging. I genuinely, and authentically, want to take millions of people with me because I know how many folks out there wish to break free of their own chains. I broke mine and I want to show people that if a broke, unemployed security guard from New Jersey can blog from paradise they can do it too.