So I've got a short and sweet travel hack for you guys today.
You read the title correctly – unlimited internet. Imagine what you could accomplish.
No need to spend hours searching for a decent Wi-Fi connection. With this special promotion, you can get strong, reliable internet anywhere in the country for roughly $12.80 per month and never have to worry about running out of balance.
This affords more time and money for you to enjoy this beautiful country and invest more baht to the Pad Thai fund.
No doubt that Thailand is a great place to be based in – low cost of living, high quality of life, great food, and a great central location in Asia with inexpensive flights to almost anywhere. It's probably my favorite country to live in within the Southeast Asia region (though I'm big on Taiwan as well). It's also a wonderful place to meet people from all around the world, and co-work with digital nomads and startup entrepreneurs.
Yet one difficulty you'll encounter here, if you speak English, is trying to find any reliable information without the ability to read Thai. Even Google had failed to list Bangkok's BTS stops in English within Google Maps for years (they finally begun to recently).
So finally, here's a juicy bit of info for all you non-Thai readers out there.
Thailand does not give up its secrets easily, but if you have Thai friends it becomes significantly easier. Last week a close Thai friend spilled the beans and shared a promotion with me that enables you to get unlimited internet access – anywhere in Thailand – for just 450 baht per month.
When you consider the fact that Starbucks in Thailand charges 300 baht just to use the Wi-Fi at their locations for 30 days (and it doesn't work more than half the time), and most condos charge upwards of 500 baht per month, it's a pretty sweet deal.
Plus, you can easily set up a personal hotspot anywhere you like and direct web access from your phone to your laptop.
Here's how to get unlimited 3g and 4g internet in Thailand:
First, purchase an AIS sim card for your phone at any 7/11 store. Ask the clerk to install it in your phone.
Next, purchase a minimum of 450 baht in credit and ask the clerk to add your phone
Now, it's time to enter the promotion. If you can't speak Thai, then ask the clerk (or a Thai friend) to dial this number for you: *777*984*289616#
If you don't have enough credit on your phone, then you'll receive an error message that basically says in Thai, "Your balance is insufficient for this package." If you've added at least 450 baht in credit, then you'll receive an automated recording to set up your unlimited internet package (again, also in Thai)!
Ask your Thai friend to approve the deal and you're all set. In addition to getting unlimited internet access from your phone, you can also login via Wi-Fi anywhere you see the "@ AIS WiFi" network.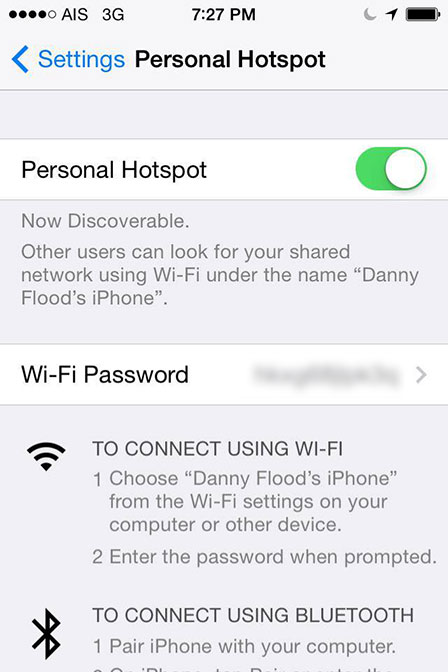 And again, it only takes a few clicks to set up your own personal hotspot, and transfer internet to your laptop or other devices anywhere you like, whenever you need it.
Enjoy your unlimited internet! And let me know what you plan to do with it 😛