Have you heard of Moab, Utah, yet? If you're an adventure lover, chances are that you have.
Moab's trails are world-famous for good reason. The amazing slickrock features have been challenging off-road enthusiasts for decades, and the incredible scenery has been blowing minds for centuries. Those who aren't content to admire the scenery from behind the windows of their car have a seemingly endless menu of thrilling trails to explore.
The incredible surge in UTV popularity has only added to the huge number of people who descend upon Moab each year—people with vastly different backgrounds and skill levels. From the mellow rider who just wants to get out in nature and see some of Moab's gorgeous natural wonders to the hardcore rider who wants to push himself and his machine to the ragged edge, Moab's classic rides will thrill and inspire.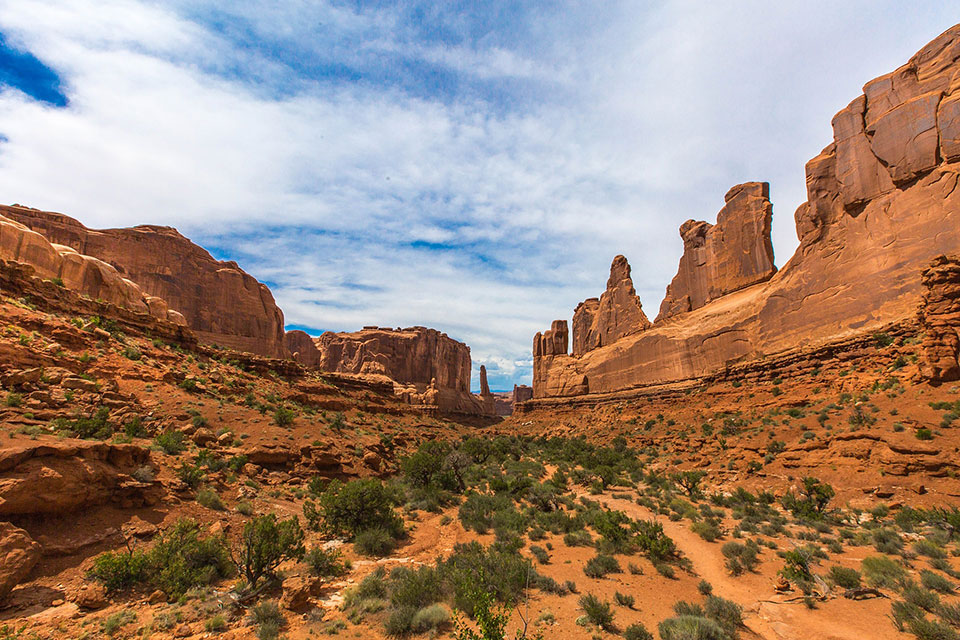 Easy difficulty
Gemini Bridges
A great intro to the basics of UTV control, Gemini Bridges is all about the breathtaking views at the top. The route is 7.7 miles from the parking lot to the top of Gemini Bridges. It's an easy ride. In fact, most grocery-getter SUVs would have no problem at all. For the uninitiated, however, it's the perfect way to become accustomed to their UTVs' handling and controls.
The bridges themselves are two huge parallel arches. Most people take the trail to the top of the bridges. From the top, you're standing about 160 feet above the floor of the canyon. Be careful, especially with small children. The views from the top are incredible, however, and completely worth the trip.
Chicken Corners
Chicken corners is a logical next step for the cautious beginner, or a nice, tame first ride for the more adventurous. The route is mellow by 4×4 standards, and can easily be completed by stock Jeeps. There are, however, a few areas (especially right near the end of the trail) that can be pretty unnerving for folks with a healthy fear of heights.
The scenery highlights are breathtaking. A couple of the most notable are Hurrah Pass, with views of 50 miles or more on a clear day, and the famous view at Dead Horse Point near the end of the trail. True thrill-seekers can walk around Chicken Corners, a narrow ledge at the end of the trail.
Moderate
Fins & Things
Once you're used to your UTV's handling and acceleration characteristics and the controls have become second nature, you'll want to challenge yourself (and your machine) with something a little more technical. At the same time, you'll probably want to keep your UTV rubber-side-down. Fins & Things meets these criteria perfectly. Most of the trail is slickrock, although there are sandy patches thrown in, as well.
There are quite a few technical sections on Fins & Things and a couple of very steep climbs and descents—but nothing super-dangerous. This trail will give you a good idea of how to approach a technical section and how the machine will react to varied terrain. Fortunately, mistakes on Fins & Things are rarely costly, and the trail sees enough traffic during the busier months that you can bet someone will be along to give you a hand if you need one.
As with Gemini Bridges, you get up high enough for some breathtaking scenery—that alone is worth the price of admission. For a completely different perspective on this incredible landscape, try driving Fins & Things (or the other two previously discussed trails) at night. With a high-quality lighting system, night driving adds an incredible element of adventure that makes even the most mellow trail exciting. You'll also avoid the desert heat.
Poison Spider
Poison Spider is more technically challenging than Fins & Things, but it can definitely be done in a UTV. It's probably not a great idea to ride alone the first time however, in case you get into trouble.
As with most of the trails in the area, the trail is mostly slickrock with pockets of sand and some dirt trails. You'll need to pay close attention to stay on the main route, but most of the time it's pretty obvious which is the most traveled. The most difficult features that you'll come across on Poison Spider are a series of rock ledge climbs near the beginning, which you'll then descend after you've completed the main loop.
Although Poison Spider has quite a few technical sections and will require your full attention in many areas to choose the right line, mistakes aren't normally super-dangerous. With a little patience, you should be able to power through most of the technical terrain in a good UTV.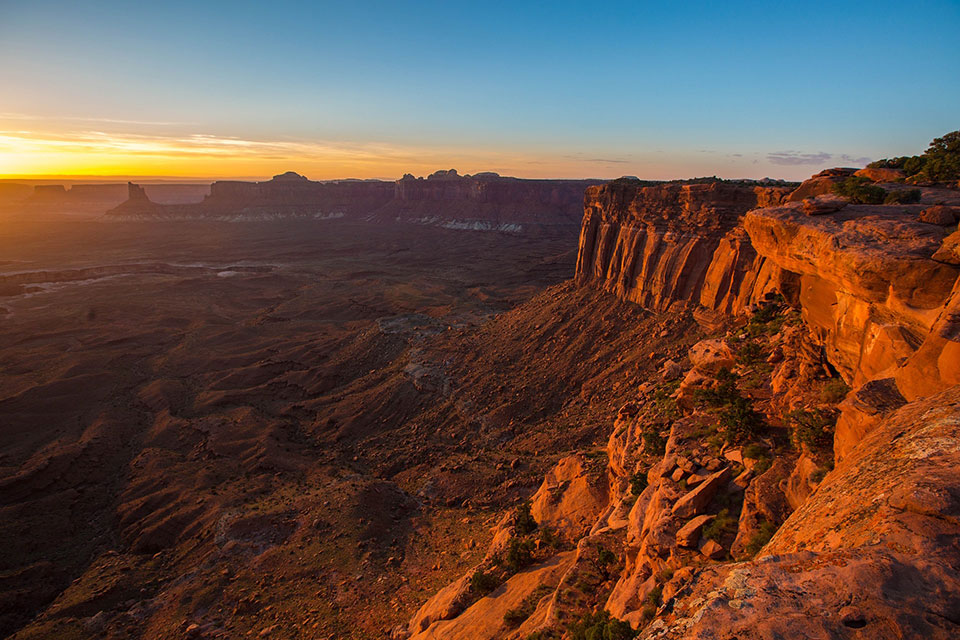 Difficult
Hell's Revenge
If you've never ridden Hell's Revenge, it's best to approach with more experience and caution than ego. The trail is a mix of slickrock and sand, steep climbs and descents, and technical obstacles that will challenge the most experienced off-roader. The worst of the sketchy sections—areas with names like the Escalator, Hell's Gate, and the Devil's Hot Tub—have bypasses for those who aren't comfortable tackling the most demanding terrain.
Hell's Revenge is an amazing experience and riding the entire trail in your UTV is a real accomplishment. It shouldn't be approached lightly, however. Unlike the other trails we've talked about, mistakes on Hell's Revenge are often dangerous and costly.
Moab Rim Trail
The Moab Rim starts out scary and it doesn't let up until you reach the top—about a mile in. you'll definitely want to go with a group of vehicles and use spotters. Several sections at the beginning of the trail are extremely technical and mistakes can become costly in a hurry. What may appear to be an easy line can catch you off guard because your UTV will suddenly be positioned at a precarious angle—take it slow.
Once you reach the top of the climb, the trail becomes a bit easier to navigate. There are plenty of steep, technical sections to navigate, but the worst of it is behind you. The descent is easier than the climb, but you'll need to be careful because the steep drops make visibility difficult in spots.
On a lighter note, the scenery is second-to none on the Moab Rim Trail. You 'll see ancient Native American petroglyphs, as well as the ruins of a Native American dwelling. And, of course, there are huge 360-degree views along the entire course of the trail.
Moab is an incredible area. Amazing experiences are had there every day by adventurers of every skill level. If you're familiar with your equipment and your limits, do a little research, and prepare properly for your adventure, you'll have the time of your life in Moab.
—
By Matt Mascarenas at Baja Designs  
Matt is an avid outdoors enthusiast and part of the BajaDesigns.com team. When he's not camping, you will find him with his Jeremy planning for the next adventure to come. Follow Baja Designs on Instagram.