Changemaker Interview Series
In this regular contributing column, we interview online entrepreneurs who begun their life down the  traditional path, but realize that something was missing. They decided to pivot, strike out on their own, and forge ahead on their own path and never looked back.
This week, we feature Agustin Rubini, an entrepreneur and author in the financial space. Growing up amidst financial turmoil in Argentina, Agustin learnt the importance of carefully managing his money and securing one's financial future in one's own hands. Alone, he moved halfway across the world to London and began a new life. He worked his way up from humble origins to become a respected consultant, CEO, and author of an industry-leading book, "Fintech in a Flash."
In this interview, Agustin weighs in the future of financial technology and innovation. He also shares how he built his business and lends his best advice for others looking to create a secure and abundant financial future.

In your own words, please tell us about yourself!
I'm a creative thinker, I like to find ways to innovative ways to make things work. I think I have a lot of influence from the Argentinean culture, which is very resourceful. We use the term "tie it with wire" as a way to fix things with few resources.
Growing up in Argentina, where things change from one minute to the next, I had to learn to adapt to life and its challenges. An example of this is how the government printed money.
Argentina achieved a world record level of hyperinflation. You could literally wipe your butt with the bills. It hit the country very badly, and my family too. One flat that my parents sold was worth as much as a bar of chocolate a few weeks later.
This incident taught me how important it would be to keep on top of money and how global issues can affect it. 

How did you apply this affect your professional career?
I started working as a management consultant across different industries. I chose this path as it helped me think in a structured and organised way about issues companies face and their root causes. It was the time of the dot com rise, and I took the opportunity to start two dot coms, a content portal and a domestic services booking system. These were very popular in Argentina.

In 2005 I decided to move to London, United Kingdom, where I currently live. I founded my own company; I enjoy investing in and mentoring early stage startups.
What was it that made you leave Argentina and travel across the world to London? Did you feel any culture shock or experience any trouble adjusting?
I've always heard great things about Europe and London, and thought I should give it a try. As my father is Italian, I already had a right to live and work there, which I owe to my ancestors.
It was quite a culture shock to move there, especially as the brits are very different to the more latin European countries such as Portugal, Italy or Spain. The shock was so big that I ended up writing a book about it, "Viejos me mudo a Londres."

What were some of the ups and downs? Did you experience any major failures or setbacks as an entrepreneur or expat?
From a legal and economic framework perspective, it is all positive. You get certainty on where the country is heading, you don't need to bribe people to get stuff done, and you have a huge market to address. There is a big learning curve to understand how to do business successfully in a new region, and what are the local customs. For me, it was difficult to get my first contracts, mainly because of a language barrier, my English was not as good as I thought it was.
What sparked your interest in financial technology?
Since a child I've loved computers and new technologies. What I've noticed is that one thing that money and technology have in common is that many people struggle with them. I love to help people getting to grips with both.
Working in financial technology helps me do that full time. Fintech applies technological innovations from different industries to improve the efficiency of the financial services world.
In 2013, I founded Banking Innovations, a consulting company that helps big banks deal with the opportunities and challenges that the new technology revolution has created. This year I also published a book on the topic called "Fintech in a Flash."
I've heard quite a bit about disruption in different industries and how new technology is disrupting all types of white-collar fields: medical, law, and financial, and how these jobs will be left in the dust due to to automation.
What exactly is the "new technology revolution" in finance, what opportunities do you see, and where is this going in the future?
It is difficult to make predictions of when the disruption will actually happen, but I think this will come within the next ten years. As Bill Gates said: "We always overestimate the change that will occur in the next two years and underestimate the change that will occur in the next ten."
My main predictions for this disruption:
Cash and cards will be almost non-existent in developed countries. Devices and biometrics will replace these antiquated forms of payment

Sending money, both domestically and internationally, as well as investing in shares or funds will be free or almost free to consumers.

Machines will be the main point of contact and the best asset for finding the best investments.

Billions of people will be brought into the financial system, helped by innovations in identity management and the blockchain.

Lines between online and offline commerce will disappear, and our devices and robots will start making a lot more purchases on our behalf.

What inspired you to write "Fintech in a Flash?"
The financial services technology industry is booming, with investment in excess of $20 billion just in the last year. There are more than 5000 fintech startups operating, and 50 of them have already reached a billion-dollar valuation.
People are interested in fintech but there is so much content being thrown at them. How can anyone make sense of what is happening, without spending all day reading news about it?
When I searched, I found that there wasn't a simple, easy to understand, reference guide that could get you up to speed. My objective was to make financial technology really easy to understand, so that everybody can benefit from it.
For example. I wanted bank account holders to know that technology can supercharge their bank accounts. In the same way, I wanted migrants to know how they can send money abroad cheaper, small business owners to know how they can borrow money and find funding in a better way.
That seems really interesting. Can you give me a few examples?
In banking, have a look at what Monzo, a challenger bank is doing. They created an app that makes managing your money easily. When you go abroad, it provides excellent rates. When you get back, it tells you how much you have spent while you were on holidays. For every transaction you can map it, it is automatically categorized, add notes and even pictures of an invoice.
In money transfers, have a look at what Transferwise is doing. Instead of sending money through the standard international banking system, they check within their community who needs currency in different countries, and by using a peer to peer platform they avoid the clearing system completely.
In lending, look at Ondeck or Kabbage. Instead of basing their credit scoring on a standard FICO mechanisms, they can include thousands of data points, including your accounting software and your Amazon and Ebay sales. This way, people can get more loans at better rates.
What's the best advice you have to offer to ordinary folks to cash in and sail high in this sea of turmoil and change (or at least to be able to swim with the sharks without being eaten alive)?
I recommend to people to have a look at good look at how they are managing their money, there are probably ways in which you can improve. For example if you have cash sitting on a current account, why not get some interest? Why don't connect to a money comparison tool to check whether you could be getting a better deal.
On a credit front, install one of the free apps to manage your credit score. You may not need it now, but you might want to get a mortgage in a few years time and your credit score might be crucial.
What advice do you give to entrepreneurs who are interested in starting up in the Fintech industry?
The industry is exciting and there is a lot to be done. Don't be intimidated by the amount of people and companies already operating in the space. There is a lot to be done. If you are looking to startup your own company, I would generally recommend you to focus on a problem that you know really well and try to find an innovative solution for it. Also, surround yourself with a good team, that is the key to any successful endeavour.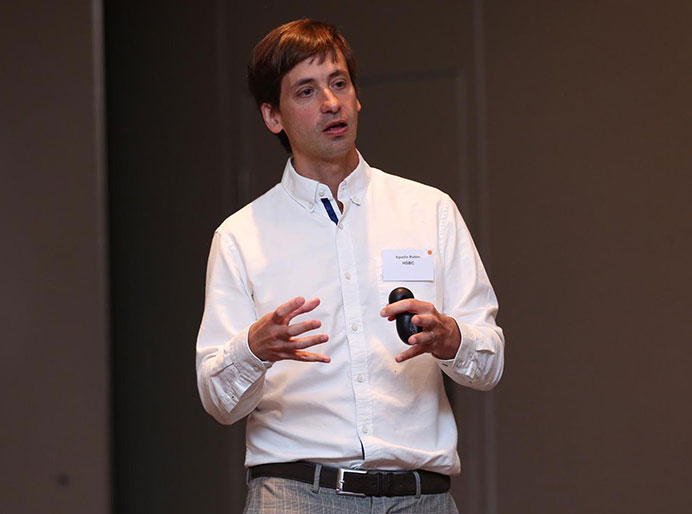 I want to learn more about Banking Innovations. How did this start and what is your goal with it?
After working with several consulting firms, I wanted to offer financial institutions with a more personal experience, one where we could focus on the real problems that digitalisation brings. This could only be achieved by creating something new, something niche. This is how Banking Innovations was born. The focus of the company is to work on strategic digital assignments, training companies that are in need for a digital culture change, as well as organising speaking events.

How do you manage to work with big banks as clients? What advice would you give to other entrepreneurs who want to work with large clients?
Big banks are really keen on working with innovators. Sometimes it is difficult to get in, as this corporations like to rationalize the number of suppliers that they work with. A good approach to start with is to partner with some of their preferred suppliers. This also mitigates the risk that might be generated if your product offiering encounters problems. If your offering is great, banks will be fighting to get them.
What is your mission for Banking Innovations?
It is predicted that 50% of banks will not survive once new technologies sink in. We want to help banks transform so that they can keep up to date and ensure their customers are still happy.
By creating a strategic digital roadmap, we can help banks create a route towards a successful future. By then setting up a training programme, we can teach bank employees how to adapt to the new fintech environment. This includes how to work in a more agile way, and how to cooperate with startups.
You mention cooperation with fintech companies, are these not trying to disrupt the traditional financial industry?
That is a common misperception. Some of the new startups clearly have a conflict of interest with the incumbents. However, most of the new firms can work well as suppliers for the established banks and insurers. By offering these innovations, everybody can win.
The industry is moving towards an open environment, where different firms specialise in different things and the customer ends up getting the best from each.
What are your future goals for your business over the next few years?
Like Barack Obama said, "Change will not come if we wait for some other person, or if we wait for some other time." We want to lead in creating a banking system that is more fair, inclusive and friendly. We are keen to keep on working with organisations that have this ambition too.
What other dream profession would you take up if you weren't doing what you are doing?
I love the life of hands on philanthropists like Bill Gates. Having loads of money available to deal with the biggest problems of our time is exciting, and it is the best use of your time.
What's one random fact about you that few people know?
In my early twenties, I did some modelling for magazines in between consulting assignments. Luckily I chose to follow the business path… who knows where I had chosen the road less travelled…
What advice would you give to others who want to create a business around their passions?
When you start a business you should expect failure, so you need to be flexible and persistent. When learning, try to do it on other people's money so that you can avoid expensive mistakes.
There is a way to make any endeavor successful, however it is not always possible to get yours right the first time, so be prepared to change the business model as many times as necessary until you find one that works for both customers and for your business.