Brunei Darussalam is a tiny country located off the mainland of Southeast Asia in the island of Borneo, the world's third largest island, which is divided is between three different countries: Malaysia, Indonesia and Brunei.
Not much is known about this country to the outside world, and before I visited, I was no exception either.
Historically, Brunei was initially invited to join the Malaysian federation and become a state of Malaysia, but they disagreed over their share of oil wealth with the central government. As a result, Brunei remained independent.
This was probably wise. My impressions of Borneo were, despite the island's great oil reserves and natural resources, very little of the wealth seemed to stay in Borneo. It all seemed to be channeled to Kuala Lumpur, while the infrastructure of the local communities was neglected. I visited Miri, the place where oil was first discovered, and the infrastructure seemed to be almost nonexistent.
For Brunei, independence would also mean that the sultan would retain absolute power over his fiefdom. Indeed, the sultan of Brunei is also the country's prime minister, and also happens to be one of the world's richest men. His friends, family, and favored contacts make up the ruling elite, each gifted their own black Mercedes.
In this country, the sultan can do whatever he wants. And I certainly quite a bit of that there. For royal activities, whole sections of the capital city will be closed off.
Never have I seen so many black Mercedes Benzes together in one place – dozens of rows clustered together in silence, quietly manning their watch like stone sentinels.
Overall, it reminds me of an expression from history that I once read of Frederick the Great. During Frederick's reign, one out of every 28 of Prussia's (the future Germany) citizens was a soldier, compared to one out of every 310 for Great Britain. The military also consumed 86% of the country's budget. Of Prussia it was said:
"La Prusse n'est pas un pays qui a une armée, c'est une armée qui a un pays."
This expression means: "Prussia is not a state in possession of an army, but an army in possession of a state." This is somewhat how I looked at Brunei: as a monarchy in possession of a state, not a state in possession of a monarchy.
Happily, unlike other authoritarian governments around the globe these days, Brunei is benevolent. Everyone I met – from police officers to photographers to schoolchildren, welcomed me with a warm smile and a friendly demeanor.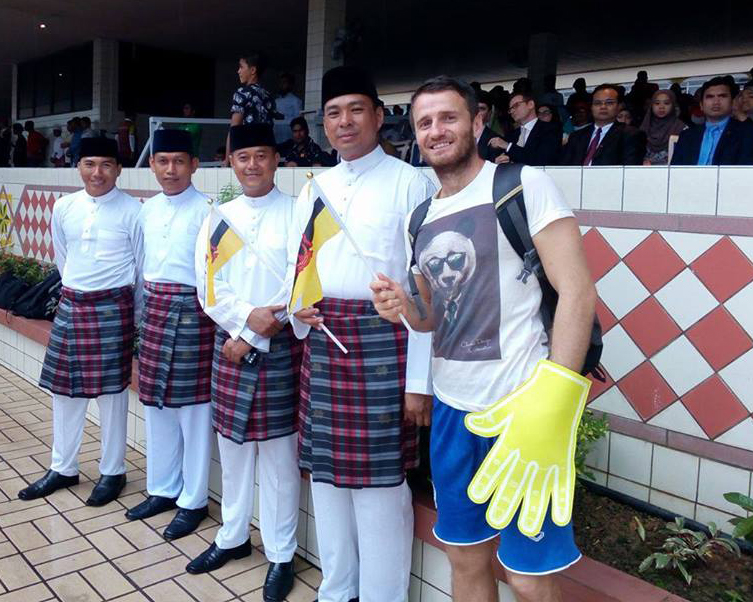 When I began to ask people about Brunei before my trip, no one seemed to have much to tell. People kept telling me it was very quiet and slow – a "Muslim" country, they said (which, in this case, basically means no alcohol or vices of any kind).
I decided to travel to the country with an open-mind and make the most of my time there. So much of one's experience of a country depends on the friends and local contacts you make while there, this has been especially true for me throughout my travels.
While I do appreciate solitude when I need to get serious work done, my fondest travel memories were ones shared with new friends I've made around the globe. There is a saying that "happiness shared in the form of friendships and love is multiplied," and I find it to absolutely be true.
I turned to CouchSurfing.org and began contacting locals about a week before my trip. I received many positive replies and was beginning to get excited as the locals seemed very accommodating, welcoming, and interesting to boot. And I also was able to get in touch with my host-to-be: Winnie, who made my time in Brunei all the worth while.
My first impression upon entering Brunei from Malaysia was how quiet everything was at the border crossing – it was almost eerie. Aside from our bus group and one other heading the opposite way, there was not another soul crossing the border.
Once we'd crossed, I glued myself to the window as much of this new country as I could. I was struck by how natural everything seemed – the countryside seemed to be exactly in its natural state, as God created it, with only a narrow highway interrupting the long, snaking pathway through this sea of green.
I was impressed, and as I looked outside also quietly wished that other countries followed this example instead of always attempting to bend nature to the will of mankind.
I was also very fortunate that I arrived just two days before Brunei National Day, a special holiday for Bruneians where the locals celebrate the nation's full independence from Great Britain in 1984. 
While I was initially told that access to the stadium was restricted, I was able to get a hold of a Brunei flag and a foam finger, which apparently was enough to be let inside.
The novelty of a foreigner waving a Bruneian flag amidst the procession was enough to draw quite a bit of attention, and plenty of smiles, so it wasn't long before people were photographing me!
Pumping up the crowd during the National Day celebration in Brunei Darussalam! 
I connected with one talented local photographer, Ejam Masle, who provided these excellent shots from the ceremony:
Young Bruneians rehearsed their dances well in advance for the performance.
Participating in Brunei National Day is compulsory for all students.
The enthusiasm was infectious.
Brunei DOES have its own military, but they don't fight anybody, so the soldiers seem to take on a more administrative role within the kingdom.
Many different groups from all types of organizations took part in the procession.
Government workers in traditional Bruneian garb.
While occupied by the Japanese during WWII, Brunei has not participated in a war for more than 300 years. Military drills are performed more for spectacle than actual warfare.
Members of the Bruneian royal air force stand at attention.
Young students bring plenty of enthusiasm to their country's national day.
Brunei is home to a small, tight-knight enclave of expats, many of whom are British. Some work as teachers, others as consultants to the government.
All in all, I enjoyed this experience of visiting a new and rather unique country! My experience may have been quite different if I hadn't made new friends upon my arrival who treated me with great hospitality.