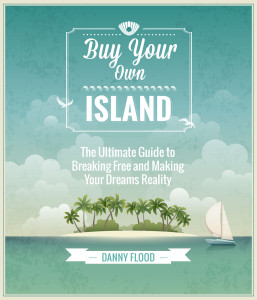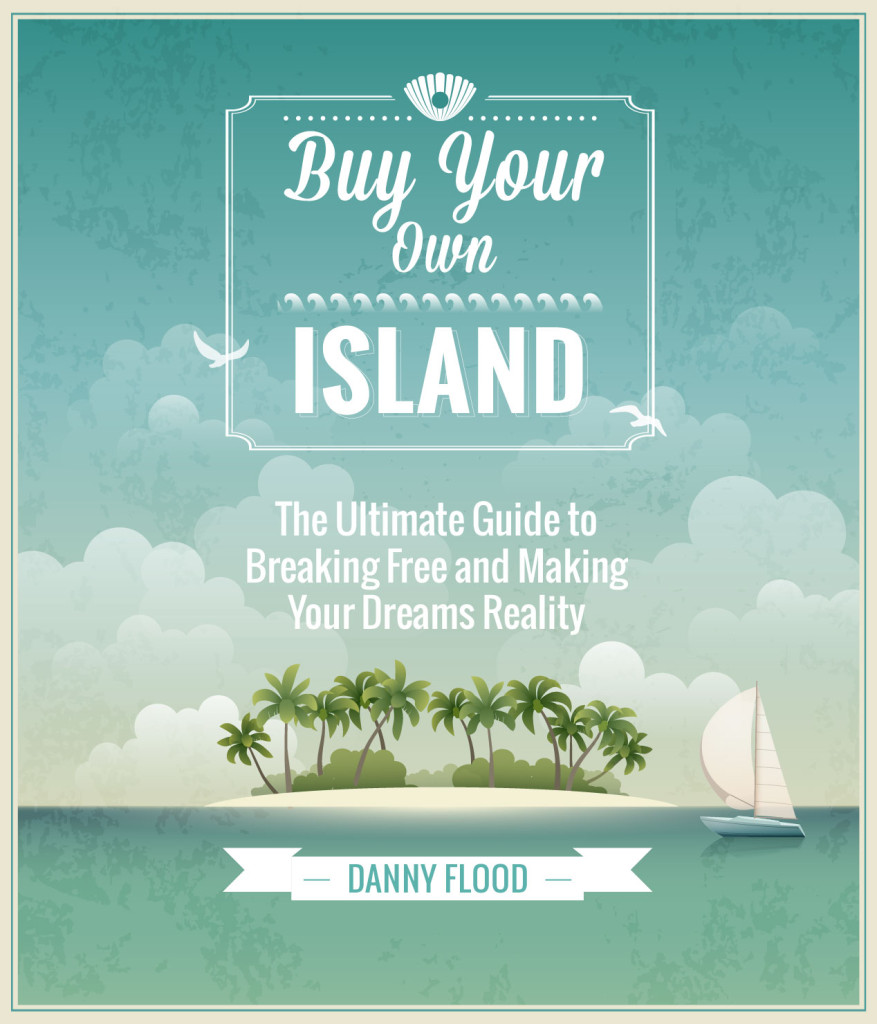 This post was written by the author of the new best-selling book, "Buy Your Own Island." The most thorough and comprehensive handbook for lifestyle design on the planet, the book shares a bunch of "hacks" to travel the world, live like a king, and get what you want from life. You can download it immediately from Amazon, or download the audio book for free by clicking here.

The Current State of Online Dating
Unfortunately, when it comes to dating, most guys are just far too generic, boring, and predictable. I see it each time one of my female friends shows me the inbox of her online dating profile, or her Tinder account.
It's PAINFUL…
So many guys just follow the same, stale, tired pattern:
Hi, how are you? A couple messages back and forth. You seem friendly. We should get a drink. Haha.
These men should slap themselves until they stop acting like 13-year old girls. First of all, there's nothing to justify the guy's interest in her, other than the fact that she's a female and she has a pulse. It doesn't come across as genuine interest; it comes across as desperation. Too many guys act like they'll go for the first girl that accepts them without any standards. What's far MORE powerful, especially when it comes to online / app dating, is to take on the mindset of selector, rather than selectee.
Since 80-90% of guys are doing online and app dating wrong, it unleashes a HUGE opportunity for a guy with a brain who KNOWS what he's doing. You can literally have your pick of an unlimited pool of gorgeous, attractive, and intelligent women. If you're a well-rounded, interesting guy who takes care of himself, then there is no need for you to settle.
Ramit Sethi describes how most men do things wrong in a phenomenon he calls The Craigslist Penis Effect. Basically, any reasonably attractive woman who posts a personals ad in Craigslist W4M section is virtually guaranteed to receive 50-100 messages of guys sending selfies of their penises. Hence the name, "Craigslist Penis Effect," and a sad look into how horrible men are doing with online dating.
So let's look at some different online and mobile dating portals and how to hack them. In this article, I'll give you all of the best opening lines / headlines / techniques / and other tricks so that you can be a master in minimal time.
Tinder
Tinder is probably the fastest way to interact with a high quantity of women. It's so easy to use that even the Craigslist Penis dudes can figure it out. The downside is that the women you meet through this app usually seem to be serial daters. I went out with one girl and she was Tindering with other guys during our date!
*Most likely* you can't expect anything more than a bit of casual fun after you meet someone from Tinder. However, I have heard of a couple of relationships that have developed from the app.
The Best Opening Lines
How to hack Tinder? The opening line that seems to work best for me is:
"Hey, (girl's name). You look like the girl who used to pull the other girls' pigtails in third grade."
Often I'll use that one line alone and it usually opens them up for a fun conversation. Sometimes I'll follow up with "Are you friendly?"
OR, you can simply say "Wow you look like a troublemaker, are you friendly?" OR "You look like a brat/handful/whatever" and then "Are you friendly?"
Sometimes, around the holidays, seasonal conversational openers work well:
"Hey Ashley, I'm going to see Santa what should I tell him to bring you?"
You don't have to use these exact lines, but I've found that they work very well consistently. Each girl will answer you differently, but you can almost repeat the same questions and lines and move the interaction forward in a predictable fashion. By the way, for more conversational "ammo" like this I highly recommend this primer on "magnetic messaging."
The KEY, though, is that you adopt the mindset of why these questions work rather than simply the lines themselves. You're inviting the girl you're talking with to open up and showcase her personality. You open up the window to having a real, genuine conversation and inviting her to share what is unique and interesting about her. You also assess whether she's someone that you TRULY want to talk with and possibly get to know based on something other than her LOOKS and the fact that she's a woman.
How to meet up
The same rule of thumb applies regardless of the platform you use. Whenever you suggest meeting up, ALWAYS act like you're still a little bit unsure of her. Don't let her know that she's won you over just yet (it's way too early for that). If you ask for her full name, tell her it's because you need to perform a background check on her first. If she agrees to meet up for a drink, or lunch, ask her:
"Are you sure you're not going to kidnap me?" OR, if the two of you have been getting on really well, you can take it a little further: "I don't know if we should meet up… I think you're going to fall in love with me and kidnap me."
The key to getting a successful meetup from an online interaction is to make her jump through "hoops." These shouldn't be too serious, they are just fun and light. You want to advance the interaction, but make it seem as though she is the one chasing you. You might also be interested in the "honey trick" taught by dating coach Jason Capital.
By the way, HOW the two of you meet up says a lot. A dinner is a bit too formal for a first meet-up, and adds too much unnecessary pressure. If you meet for coffee, it's a bit too casual and many women now believe that men who suggest a coffee date are serial daters. I used to be a fan of "fun-dates" for years: comedy shows, hiking, beach, rock climbing, etc. Now I'm a big fan of meeting up for lunch. It doesn't really have any undertones to it: friends meet for lunch, and at this point you're really just meeting up and making friends to see how the two of you click. Lunch is also a safe, minimal time investment. If it goes well, you can always do something else after.
You don't want the first meet-up to seem so casual that it's artificial; you want to reward her for the efforts she has invested in you up until this point. At the same time, it's not as awkward as a dinner date where you may end up seated for an hour and a half with someone you might not like anyways.
POF.com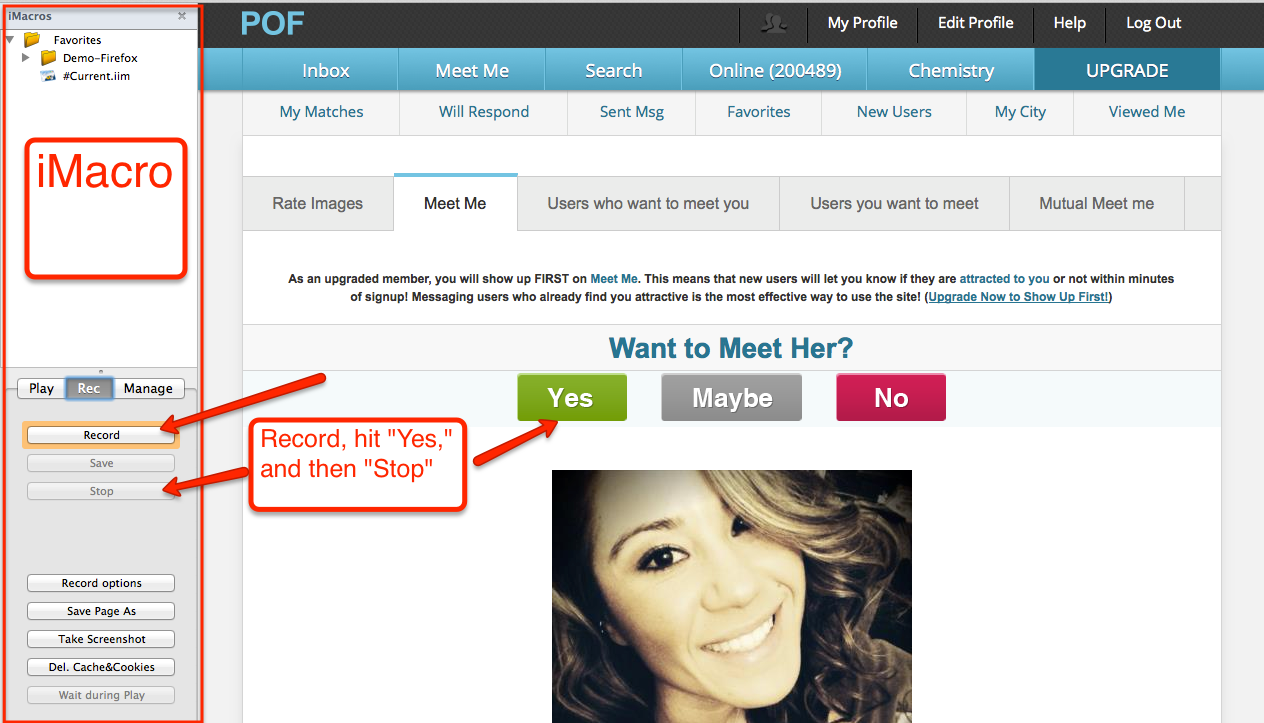 Background: POF (Plenty of Fish) is terrible in some areas of the world but solid in others. In Southern California (where I hail from) and Latin America, the selection of people you can meet through the website is terrible. In other places like the Pacific Northwest (Seattle, San Francisco, Vancouver) and some parts of Asia, there is a much better selection of potential dates on offer.
Unique to POF is the "Meet Me" feature. You can literally click through a ton of profiles back-to-back-to-back and notify users very quickly. It's similar to Tinder where another user's profile will pop up, along with a brief description and photos, and you can click "Yes" or "No" to them.
Unlike Tinder, POF can be HACKED using a bit of sneaky technology. To hack POF, simply download the free add-on called "iMacro." What iMacro does is it records the actions you take on your screen. You can then "loop" or replay them as many times as you want!
Here's what awesome: iMacro integrates perfectly with POF's "Meet Me" feature. Simply click on the Meet Me tab, and then begin recording with iMacro. Click Yes on the first profile that comes up, then hit "Stop" within iMacro. You have now recorded the action. Now, you can replay it as many times as you want! Before you go to bed, or while watching football on a Sunday, you can set the Meet Me feature to loop three or four thousand times. iMacro will then go through hundreds (potentially thousands) of profiles, and send all of the users a notification that you want to meet them. They'll come back to your profile, and often send you a message. It's great because you can go to bed on Sunday night, and wake up on Monday with 300 new messages in your inbox! 
You'll also get a ton of views on your profile, and POF shows you everyone who has viewed your profile. If they checked you out, there's a good chance that they have some interest, so you can shoot them a message, get a conversation going,  then transfer things offline.
DateInAsia.com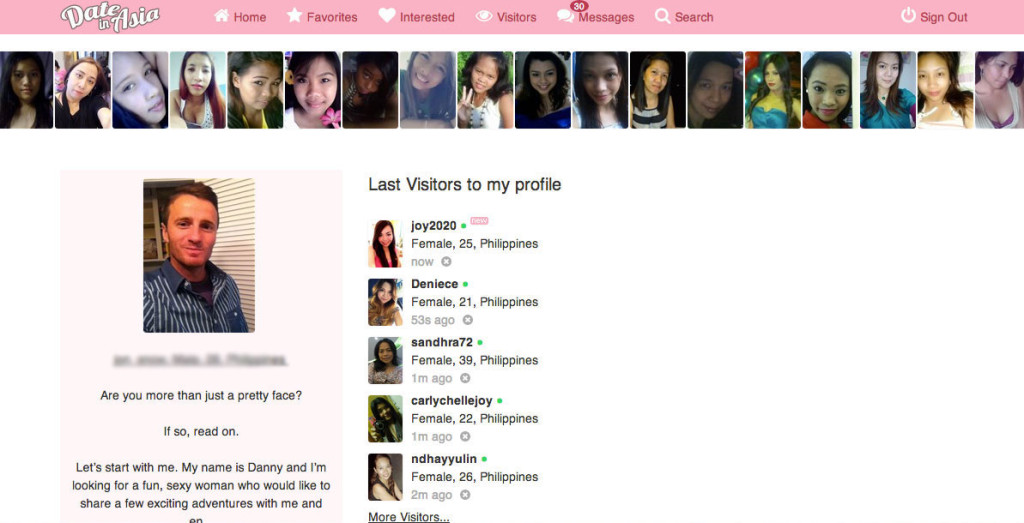 DateinAsia is an awesome online dating site where all of the features are free and don't need to be unlocked, and the quality of girls is actually quite high. From what I've seen, about 70-80% of the users are in the Philippines (at least from the female side). This makes sense because the average age in the Philippines is 25 – which suits the demographic of a single woman who would most likely use a dating site. 
Anyway, to do well on DiA you want to have a really well-written profile. The site only allows one picture and it has to be a headshot, but you can write as much as you want. If you take some time to write a really funny, engaging profile it will pay off BIG time. The nice thing about taking a little extra time to write a great profile is that you can save it to a document, and use it forever. If you have to start a new profile again in the future, or another site, just copy and paste.
Constructing Your Profile
Headlines
Just like other dating sites, you're allowed a headline, so you might as well make the space count. I've tested out different headlines, and what I've landed on seems to work best for me:
"Looking for the Perfect Girlfriend"
I like the headline, "Looking for the Perfect Girlfriend," for several reasons. First, women are more likely to talk to you if you seem open to a relationship. Many girls even say on their profile that they AREN'T looking to hook-up (hint: they are, but they are really saying is that they want MORE than just a hook-up). By saying that you're looking for a girlfriend, it makes you seem attainable, which is good. The key is to add the word "perfect" in there. Remember how we want to be the selector vs. the selectee? If you take out the "perfect" so that the headline reads "Looking for a Girlfriend," it again communicates a bit of desperation. However, by saying that you are looking for the "perfect girlfriend," it signifies that you have standards, which is a good thing.
Profile Information
In the body of your profile, reinforce the tone you've set that you are the selector and not the selectee. You can do this by asking "qualifying questions." These qualifying questions are meant to be fun, just like everything on your profile, so don't make them too serious. Keep everything in your profile light-hearted and borderline tongue-in-cheek.
At the same time, don't fill your profile only with qualifiers. Share some information about yourself. Take some extra time when you write to really express your passions. Don't rush through writing your profile, you will come across as a dull and interesting person if you just list a bunch of generic interests.  Flex your writing muscle! After you write a couple great paragraphs about yourself and your interests, then you can move on to asking the qualifying questions.
Here are some "qualifying questions" that I use in my profile:
A few questions for YOU:
Are you a cat person or a dog person? (Puppy kickers need not apply)
Mac or PC?
If I were going to jail for 20 years, would you tattoo my name on your boob?
Are you cute and sexy?
Do you have something else going for you besides your looks – namely, a great personality and outlook on life?
Oh, and be sure to tell me something interesting about yourself… If you can't think of one interesting thing about your life then it probably won't work…
After reading all this, you're still interested, let's chat.
Then, I follow up these qualifying questions with even MORE qualifiers:
And please – a few caveats…
– If you're taller than Frankenstein, then don't bother messaging me. I'm scared of girls like that.
– If your main activity is taking selfies of yourself in your bedroom all day long, please don't contact me.
– If your ex-boyfriend is a hatchet murderer who is trying to track you down and who swears to mutilate any other man who even looks at you – please DON'T contact me!
And I don't want to hang out with someone who is sleeping in their car because their rent is sixth months overdue. I've recently retired from trying to save the world. Therefore, I am not qualified to save your life.
I can be a bit picky – but why not? I deserve someone great! Does that sound like you? E-mail me.
The next important "hack" with DiA is that you will generally only receive profile views, messages, and interests when you are logged in. This is because when you're logged in to the site you will be featured in the "online users" section at the top of each page.

So if you've been paying attention and you have a great profile, and a nice photo, then all you really have to do is keep your account logged in and let the other users come to you! Since DiA only allows you one photo (your profile photo), you should also test different photos to see which draw the most clicks and messages. Often times it is not the one you would have originally picked. If you have Photoshop or a photo editing software you should increase the contrast of your image. If adding a filter causes the image to stand out more, then do so. Remember, it will be reduced down to the size of a thumbnail and the more the attention it draws out of the lineup, the better you will do.
Latin America
Online dating is a waste of time in Latin America. There are far too few users, and of the ones who are an online dating site, they barely ever use it. If you try to meet people this way your efforts will probably go no where. I have never met a woman in Latin America from an online dating site. In fact, I don't think I've ever even gotten a return message from the few users that are on websites like POF. 
But it seldom matters. All you have to do is get out of the apartment! Latin America is all about the party scene.
If you're a North American, European, or Australian, you probably won't get noticed too often while traveling in Latin America. The key is to use the fact that you speak English to your advantage! Pick-up lines, in English or Spanish, usually won't get you anywhere. You also need to gauge the English speaking ability of the person you are talking to. If you can't communicate with each other, than the interaction probably won't get too far. So you should only ever use one line in Latin America: "Do you speak English?" 
The moment you start speaking to someone in English in a Latin American country, it is almost GUARANTEED that you will pique their interest. You become exotic. Foreign. Exotic and foreign is good because almost universally women around the world are bored with the guys in their local dating pool. Also, the question seems to open itself up well to a conversation. They wonder what you will ask them next.
Hope you enjoyed this guide to online dating around the world! All of these techniques and "hacks" have been field-tested a thousand times. But none of these will work unless you get out there and use them! Good luck, have some fun, and then tell me about it.
Comments? Questions? Drop me a note in the comments below.